Product Details
Excellence of the Art
ATECO U.K. Aluminium Floating Roofs have been successfully protecting storage tanks and reduced evaporation for years. This success is attributed to the advanced design and high quality of ATECO U.K., combined with experienced installation personnel.

ATECO U.K.'s structural design meet or exceed all known standards for internal floating roofs, in particular the requirements of API Standard 650, Appendix H. It can also be supplied to meet the requirements in Germany, laid out in the TRbF-Regulation.

ATECO U.K.'s main interconnecting grid structure has a high strength-to-weight ratio, using contamination free and corrosion resistant aluminum alloy tubular pontoons and extruded channel beams. These flotation pontoons and structural members provide maximum flotation and strength capable of withstanding loads generated by product turbulence and inspection personnel.

ATECO U.K. roofs are known for their rugged construction, durability and efficiency. They are lightweight, corrosion resistant and virtually maintenance free.
ATECO U.K.'s peripheral rim and deck penetrations isolate and trap product vapors, preventing their escape into the atmosphere. Several types of primary and secondary seals including stainless steel mechanical shoe primary seals are available, all of which are designed to accommodate wide variations in the tank shell and the rim space.

All ATECO U.K. components are designed to pass through the existing shell manway, thereby eliminating additional expense and downtime required to create other access openings. Since the roof parts are pre-fabricated and partly pre-assembled, installation time is reduced to a minimum, resulting in less tank downtime.

Let ATECO U.K. Engineering put the three decades of experience in the design, manufacture, supply and installation of aluminum structures to work for you today.
Internal Floating Roof's Unigue Design Features Are

*ATECO U.K. is completely assembled without welding and can fit through a 20 inch manway, allowing for much faster installation and quicker tank turnaround.

*ATECO U.K. is also available in a hybrid (stainless steel/aluminum) design, as well as in a complete stainless steel design, when there are compatibility restrictions to use the aluminium design.

*ATECO U.K. reduces the common failure modes of skin and pontoon roofs by reinforcing the pontoon gussets and end caps through a unique design. The addidional use of tube saddles ensures equal load distribution on to the floats at the structural interfaces

*ATECO U.K. uses a peripheral rim profile made from a specially designed large size extrusion. It is designed with the strength to support both primary mechanical shoe seal and a secondary seal without additional modifications.

*ATECO U.K. uses floats made of seamless 210mm diameter tubes , with a thickness of 2 mm and a maximum length of 5600mm.

*ATECO U.K. has a support structure designed for a sheet width of 1500 mm and a pontoon spacing of 3000 mm.

*ATECO U.K. uses PTFE (Teflon) insulators on the aluminum legs to insulate from the carbon steel tank floor. This prevents the common issues associated with dissimilar metals.

*ATECO U.K. only uses stainless steel bolts and nuts in their constructions

*ATECO U.K. offers a large variation of seal designs to suit various custumers requirements

*ATECO U.K. can be cable suspended from either cone roof tanks or geodesic dome roofs. This option allows roof height adjustments to be completed from the outside of the tank . With no leg structure under the roof, cleaning inspection and repairs to the tank bottom are simplified.

*ATECO U.K. offers a large number of accessories to meet all operational requirements designed by experienced and dedicated ATECO U.K. engineers
Internal Floating Roof Photos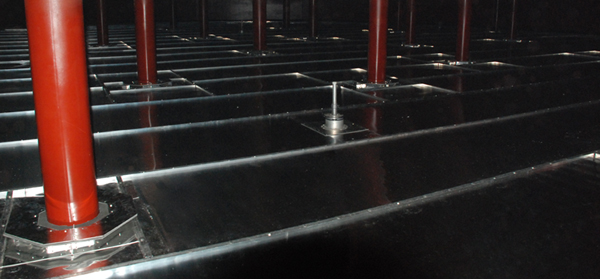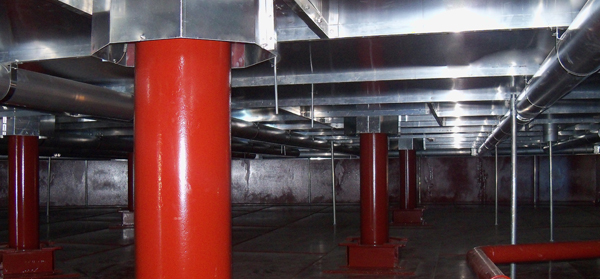 Internal Floating Roof FAQ?

When was the first ATECO U.K. made?
The first ATECO U.K. was installed in Turkey in 2007 and had a diameter of 24 m. Beginning from then ATECO U.K. has been supplying many ATECO U.K. in a various diameters from 3 meters to 100 meters.

What does the ATECO U.K. cost?
ATECO U.K. is a cost effective and easy to install system, which could be used in new or old tanks. Each ATECO U.K. is in accordance with your requirements. You will be pleased to see how economic environmental protection could be.

How efficient is the ATECO U.K.?
ATECO U.K. saves up to 99% of product evaporation. Product savings depend on the stored product, the diameter of the tank and the total turnover per year.

What is the estimated pay-back period of ATECO U.K.?
This depends on value and volatility of the stored product. This could be 16 months for refined products.

Why are there legs fitted to the underside of the ATECO U.K. and are they permanently in position?
These legs are fitted to let the tank operators to gain access to the tank bottom when the ATECO U.K. is lowered. These legs are permanently fitted, they go up and down with the ATECO U.K. and are usually located such the ATECO U.K. could be lowered to rest on the tank floor, just above the tank shell manhole. These legs are available in an adjustable version, so the operator could determine the minimum height of the ATECO U.K. himself.

Can internal tank maintenance work be carried out with the ATECO U.K. installed?
Certainly! ATECO U.K. is lowered onto its legs and if burning work is to be carried out, properly protected, then most maintenance work could be carried out from the top of the ATECO U.K.. If heavy equipment has to be located on ATECO U.K. then the load should be distributed over as many of the legs as practical using scaffold boards.

Is ATECO U.K.DECK compatible to all products?
ATECO U.K. is made from aluminium, which is perfectly compatible with most stored products. Besides, we could supply all stainless steel or a combination of aluminium and steel materials to suit any requirement.

Is the seal between the tank shell plates and the ATECO U.K. advisable for all types of stored product?
Before the preparation of our proposal for ATECO U.K. we should know the stored product so that we could ensure all the material used to manufacture the ATECO U.K. including the seal is compatible with the stored product. If in later stages the tank is used to store a different product we recommend that the operator contact ATECO U.K. with details of the new product and we will advise if any modifications are required to the ATECO U.K. or the seal.

Is there a minimum or maximum diameter of tank which could be fitted with a ATECO U.K.?
There is not any limitation on the maximum diameter of tank which could be fitted with ATECO U.K.. Depending upon the stored product (low SG) there could be some difficulties to overcome the buoyancy for the ATECO U.K. if the tank diameter is less than 3,000 mm.

Why does ATECO U.K. use 8" floaters and not 10" like some competitors do?
The advantage of using the smaller diameter of floatation tube is that the ATECO U.K. takes up less space in the tank and therefore maximizes the volume of the stored product. Also the vapor space under the ATECO U.K. is smaller than with larger diameter floaters.